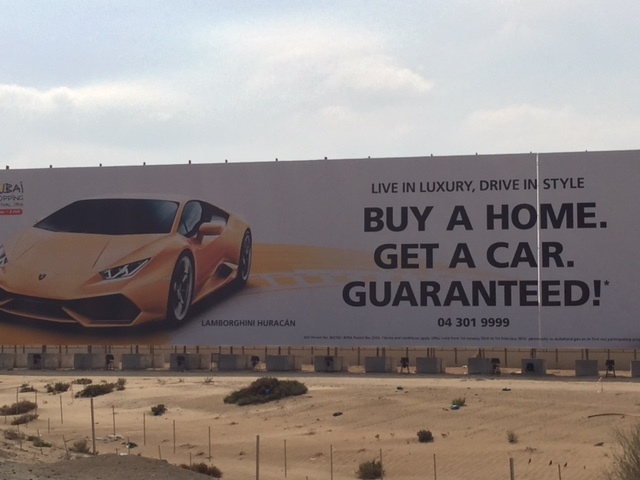 Everywhere I turn in Dubai at the moment, there's someone offering me the chance to win a prize – be it an iPhone, Mercedes Benz, Jeep Wrangler, or 200,000dhs cash (yes, please!). It seems there are raffles and there are mega raffles, like the Dubai Shopping Festival's daily 'life-changing' prize – an Infiniti Qx70. And Jumbo Electronics' gold give-away (either 10 grams of gold every day, or 500 grams weekly).
It's all part of the month-long shopping festival, and it does cause plenty of excitement. At work today, my friend turned round and, with light shining behind her eyes, said, "Ooh, in half an hour it's the next Visa Impossible Deal." (For cardholders, up to 80 per cent off electronics, travel, entertainment, luxury goods and cars, until 1 Feb.) It was an iPhone today, and no we didn't win. "Never mind, we'll try again tomorrow!" we agreed, while peering at the thumbnail photo online of the winner to see if he looked worthy.
Filling up with gas on the way home, I idled away the 15 minutes it took queuing (yes, the UAE might be sitting on 98 billion barrels of oil, but refuelling your car can take a while) by watching the staff going from vehicle-to-vehicle selling mega-raffle tickets. I've no doubt the prize was … another car.
Do any readers actually know anyone who's won a big-ticket prize, though?
I don't know anyone personally, but I did take a quick look online, and read about Shahir Ebrahim, from India. He won two cars, and at first, hung up the phone twice. "Please don't play games with me," he told the caller; it was only when his phone rang for a third time that he realised he really was a winner. He sold the cars, then got married and travelled to Asia for a holiday.
There's also Faisal Khurshid, from Pakistan, who spent the 350,000dhs he won on his wife and kids, and bought a one-bedroom flat in Silicon Oasis. "I never imagined that I would ever own a property in Dubai," he said of his purchase.
Ah, those stories are rather lovely. Definitely worthy!