The UAE is not a place you'd associate with cycle paths and Boris Bikes. After all, it's scary enough on the roads in a great big car, let alone on a bicycle (other than the odd suicidal cyclist, you don't see people biking to work).
But there's a cycling community here in Dubai that's alive and … pedaling furiously, their muscly legs pumping, saddles fitted to their bums, backs arched like a bridge and pointy heads thrust forward as they sail along the emirate's fantastic car-free cycle tracks (Click here for locations).
Last weekend the Circles family joined them – and when I say join them, we had the boys in tow, so our ride was more about taking in the scenery on a gorgeous Friday afternoon, rather than eating up the miles at speed like the finely-honed biking aficionados do.
(Counting one or two of these fitness fanatics among my friends, I can tell you that they go out at 6 in the morning during the hotter months, when apparently there's a breeze that makes cycling in summer possible.)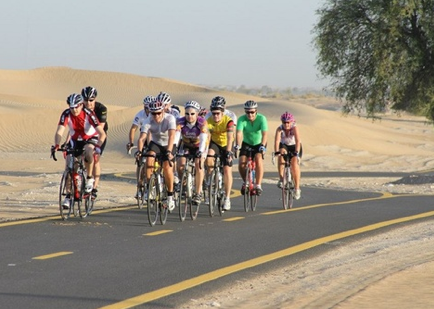 The backstory behind the Al Qudra cycle path is that the Sheikh one day drove past a pack of cycling enthusiasts making their way up Al Qudra road – riding in a peloton to slipstream each other and, I should imagine, keep safe from the crazy motorists. Within a few weeks, work had started on two purpose-built, cycle paths.
Entered under a huge bicycle-themed circular structure, the first track stretches 18km, and the second is a loop of about 50km, passing through sand dunes and by the Bab Al Shams Hotel, where you can always stop for a coffee. If you're lucky you'll spot the Arabian Oryx now brave enough to get close to the track.
I'd been wanting to go for a ride for ages, but kept falling at the first hurdle: getting the kids' bikes in the car. Then, with DH home last weekend, I tentatively suggested he do all the heavy lifting, and off we went, hiring bikes for ourselves at the Trek store, about 20 minutes beyond Arabian Ranches (calling to book is advised).
As I said, we weren't in it for the long-distance training, so we just pootled along happily. Well, mostly. There was whining (what would a cycle ride with the kids be without it?); and Son1 grumpily announced 'mission quit' on the way back, preferring to walk. But it's really enjoyable out there – the track is smooth, the shifting dunes are beautiful, and, above all, the expansive desert is incredibly tranquil.
Just beware if you take children along. You could almost liken the track to the cycling world's version of Germany's autobahn: a cleverly engineered surface; highly efficient, streamlined carbon-light bikes; and no speed limit. I must have yelled myself hoarse telling my zig-zagging youngest to keep to the right.
Near the bike store, you'll also find this … a duck pond! Filled with all kinds of bird life, from mallards to black swans. Perhaps the UAE desert's best-kept and most surprising secret. Rumour has it that it's the start of a safari park.