It's no secret that Dubai has long wanted to add Florida-style theme parks to its mix of entertainment offerings. There will be many who remember the plans for Dubailand – the emirate's original scheme to build the biggest collection of theme parks assembled anywhere in the word.
The plans included a Warner Bros Movie World, Legoland Dubai, Tiger Woods Dubai and FalconCity of Wonders, but work on most of the developments was put on hold in 2008 because of the financial crisis, and Dubailand succumbed to the aspirations of real estate developers looking to make a quick buck. I'm reminded of what was meant to be every time I drive to our local supermarket and see the towering space shuttle and roller coaster models that stand as giant monoliths to these flamboyant plans, and my children certainly appreciated the dinosaur heads that peeked out above the hoardings along the highway.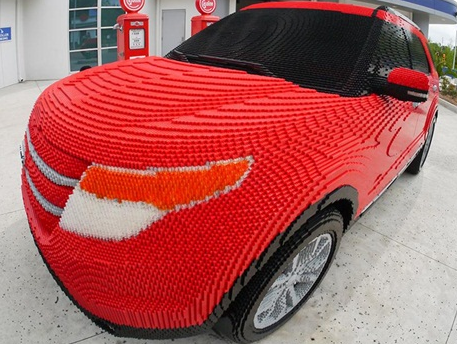 But while Dubailand may have become the amoeba of real estate, the theme park plans are now back on the table again. The first phase of Meraas Holding's $2.7bn Dubai Parks & Resorts development in Jebel Ali will comprise three theme parks: Motiongate Dubai; Bollywood Parks Dubai; and Legoland Dubai.
The development will also feature an entrance plaza known as Riverpark and a family-themed hotel known as Lapita.
So, with Legoland Dubai expected to be completed in 2016, what can we expect from this family favourite? Here, my guest columnist, Amanda Reid, gives us some clues, based on her trip to Legoland Windsor this summer. Those of you wanting massive cranes, terrifying loopy-rollers or virtual reality shooting games, look away now.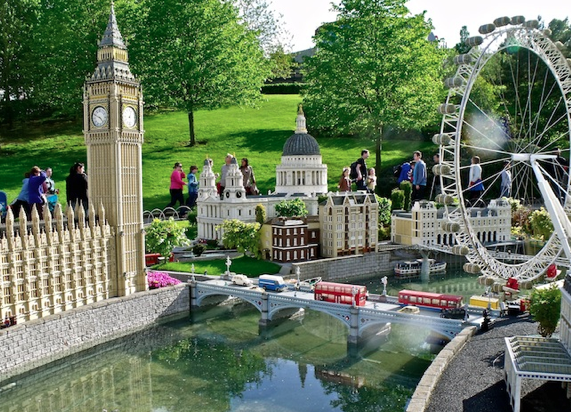 The world has six Legolands, beginning of course with the original in Billund, Denmark (the home of Kirk Ole Christiansen, the inventor of Lego in the 1930s). We visited the largest of the Lego parks – Legoland Windsor in the UK. It is so close to Windsor Castle, second home of Queen Elizabeth II, you can stand at the entrance and enjoy a marvellous view of the castle (and Heathrow airport, also surprisingly near).
At the heart of each of the Lego parks is Miniature World, comprising constructions of famous landmarks and landscapes from around the world. They are intricately detailed and impressive in their faithfulness. On France's Reims cathedral there are buttresses and gargoyles. London's Tower Bridge is mechanically raised to allow a large Lego clipper to pass through. You can see Amsterdam-style houses, the Leaning Tower of you-know-where, and so much more.
If you're looking for themed rides, you'll find them in Pirate Land (you get wet on this one), Land of the Vikings and Adventure Land. The Atlantis submarine ride offers viewing of real-life and Lego sea creatures (likewise a Lego safari).
Driving test
But our children's favourite area of the park was the Traffic section. It allowed them to drive real little electric cars on roads with stop signs and roundabouts, and no tracks to keep them, well, on track. Ah, the freedom of international children to work out which side of the road they should be on, and how to interpret those funny signs – could they mean Give Way, or maybe Stop?
The Traffic section also has a boating school, a helicopter school and hot-air balloons (pull ropes to raise your Lego balloon on poles) and fire engine racing. All transport tastes are catered for! It's a busy place – use your Q-Bot here (an expensive extra that allows you to jump queues). Little ones are well catered for, too, with Duplo Valley's splash park, a gentle hill train and lots to goggle at.
The main entrance to Legoland is a super busy assault course of Lego shops and eating options. They even have Lego-brick-shaped fries! When my six-year-old noticed Lego Star Wars and Angry Birds stuffed toys, I forgot where I was for a moment. But other than Lego and Star Wars having become virtually inseparable brands, Legoland is generally free from cross-promotion. I didn't see a famous cola brand anywhere.
Legoland holiday
The Legoland Hotel is great fun. The entrance is made from primary coloured blocks with super-sized Lego figurines. Inside there are many sculptures of satisfyingly normal-sized lego. And the odd human dressed as a Lego figure walks by. I even saw a little girl hugging a mum-sized pink Lego brick. I think the padded costume was quite soft. And there were arms and legs sticking out.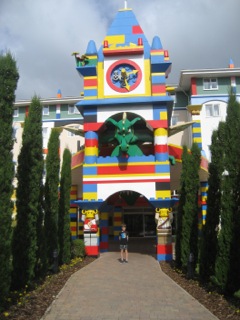 The Legoland Hotel has a feature that I commend to all busy resorts – a pit of Lego bricks in the middle of the reception, with coloured shelves for the children to display their creations on. In fact, there were times in the park when our children were heard asking to go back to the hotel for a few hours so they could build, build, build.
The restaurant and bar area is really a big playground. Staffed by cheery teenagers, the hotel is a fun place to be, although it can be slightly chaotic. Need a fork? Best get it yourself. Need advice on your next Lego build? Ask anyone. The solidarity between the parents is great. We enjoyed the weirdness of this Lego world, and seeing our children so happy. Go before the kids are too old, so they never ask 'Why did we never visit?'.